Don't Turn Away Your Visitors With a Slow Loading Website
---
Consumers both in the real world and online, expect instant results. With internet speeds at an all-time high, we can access limitless information with just a click of a button and within seconds.
To satisfy customers, site speed optimization is no longer an option; it has become an expectation.
According to a recent study by Digital.com customers are only willing to wait no more than three seconds for a website to load. When websites exceed that time limit, consumers are more likely to leave and be reluctant to return.
According to additional data, 21% of consumers indicate that slow-loading pages are the main reason they avoid purchasing online. If sites don't load quickly enough, 50% of users will abandon their shopping carts.
To keep up with the changing landscape businesses are investing in innovative strategies to not only draw attention to their website but keep customers engaged such as using video adverts in place of text.
According to the IAB's "2021 Video Ad Spend and 2022 Outlook" study, funding spent on digital video advertising increased by 49% in 2021 and is projected to rise by another 26% to $49.2B in 2022. However, though video advertisements might increase clicks and revenue, having too much video content can slow down a page's loading time. Due to the growing impatience of internet users, website designers must strike a balance between aesthetic appeal and functionality.
Website Speed Impacts Purchases
Given that more and more people are making purchases online and that the retail sector is more competitive than ever, retailers who do not make investments in the speed optimization of their websites run the very real risk of going out of business. In a study published by eCommerce cloud platform Yottaa Inc., Retail System Research (RSR) polled 1,100 U.S. consumers and found that 90% of users will leave a website if it takes too long to load.
What's more, there is a direct correlation between website load time and cart abandonment. 13% of US consumers abandon carts solely based on crash or load issues. 1 out of 5 consumers will abandon carts if the check-out process is too long or complicated. Abandoned carts cause crawl issues, which can result in lower search rankings and fewer pages being indexed. This subsequently raises the bounce rate and, in the end, results in low conversions. It is crucial to keep your website fast and accessible to avoid deterring customers from making a purchase.
Mobile Speed Matters Too
Over 54.25 percent of all web traffic was generated by mobile devices in 2021.
If your website isn't responsive or lags on mobile devices, it's only a matter of time before your rankings suffer or customers migrate to your competitors. To test how your mobile site speed ranks compared to others you can perform a speed test designed specifically for mobile websites. A common tool for checking mobile speed is Google Lighthouse. Google Lighthouse is an open-source, automated tool that not only checks a page's mobile effectiveness but will offer a wide range of suggestions including SEO.
What Factors Affect Website Speed?
Understanding the elements that affect website speed can help businesses succeed online by leaving a long-lasting favorable impression on customers. The speed of a website — on desktop and mobile devices — can be influenced by several factors including codes, hosting platforms, and graphic design.
Coding – Invalid HTML codes, JavaScript errors or dense, extensive code, can cause significant delays in a website's performance. To remedy this, a web developer with broad technical expertise can code your website in the most efficient way possible to make performance a priority.
Image Size – Large images or graphics can slow down your web pages. One solution is to optimize images by reducing their file size, using either a plugin or script. Smaller image sizes will speed up the load time of the page and enhance the user experience.
Server Performance – Your website's performance may be significantly impacted by the web host you choose. If your website uses a lot of data for things like streaming videos or custom apps, or if you have a successful online business that receives a lot of traffic, having limited bandwidth and RAM will negatively impact your site's performance. If your server performance is subpar investing in a better web host can help your website run faster.
Tools to Test Your Site Speed
Auditing your website is the greatest strategy to optimize your page load time and website performance. To determine how well your site is performing, you can use a variety of easily assessable online tools. Among the most common are Google PageSpeed Insights, Gtmetrix, and Pingdom.
Logo Google pageSpeed Insights via WorldVectorLogo
Google PageSpeed Insights (PSI) is one of the most common tools for webmasters, developers, and site owners to assess the performance of a page on both mobile and desktop devices. With just the site URL PSI evaluates the effectiveness of a page across different metrics on a scale of 0 to 100 with 100 being the best. The tool also provides feedback on what you can do to improve.
One of the most popular website monitoring tools in the WordPress community, is Pingdom. Pingdom calculates a performance score, an overall load time, the total size of the page, and the total number of requests for WordPress websites using a large global network of servers. Pingdom also offers various services, such as uptime monitoring, page speed monitoring, transaction monitoring, server monitoring, and visitor insights (RUM).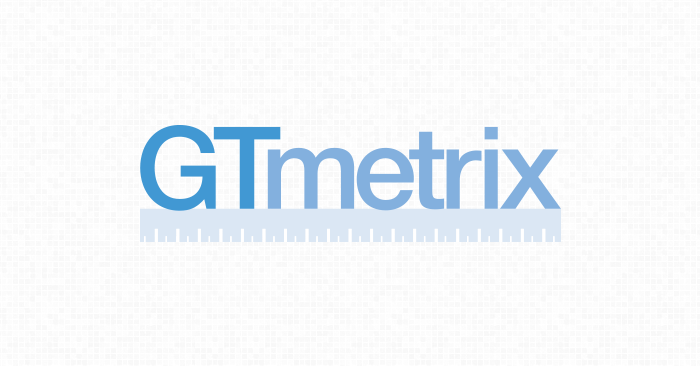 Logo GTmetrix via GTmetrix
GTmetrix is one of the most popular tools for speed testing on the web today. GTmetrix uses a combination of Google PageSpeed Insights and YSlow to analyze site performance and provide recommendations. GTmetrix is free to use but can be upgraded to GTmetrix Pro for a small fee to gain access to special features like graphics, filters, or more history visualization.
Conclusion
To attract and keep customers on your website, you must optimize website speed and overall online presence. Performing a site speed audit can help you assess the performance of your website and examine what elements of the site might be slowing loading times. Maintaining a close eye on your speed score and adjusting as needed will optimize conversion, customer loyalty, and Google Search rankings.
Our team is here to audit your website and redesign it into a modern, fast-loading look. Contact us today to get your free quote.